About the Camp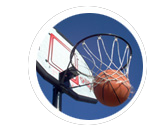 The Fundamental Basketball Camp is designed for boys and girls ages 4-12, who want to learn and develop basketball skills. This camp is highly organized and well run which allows campers to transition from drill to drill with ease and maximize their learning time while at the camp. The camp emphasizes self-discipline, team-work, and a positive attitude throughout the week. The camp focuses on teaching the fundamentals of basketball and the skills necessary to become a successful player. The staff will teach the correct techniques of shooting, passing, dribbling, defense, rebounding, and the principles of teamwork.
Players' progress is evaluated by a camp evaluation sheet given at the end of the week. The Campers will compete for prizes and awards through out the week and will receive them at an awards ceremony that will take place on the last day of camp.
This camp is an opportunity for Bob to share his basketball experiences at the high school and college level within the local community. Coaching in the Big Sky, Big West, Pac Ten, Junior college and high school levels has allowed him to gain valuable experience throughout the years. This experience is crucial to those players who are serious about their basketball future.
Benefits of Attending:
Learn directly from Bob Cantu on a daily basis.
Guaranteed to improve your knowledge and skills.
Learn life skills such as attitude, teamwork, and discipline.
Enjoy prominent Guest Speakers.
Play full court and Half-court Games.
Receive an official Camp T-Shirt and Ball.
Receive written Evaluation of your basketball skills.
Participate in daily fundamental stations.
Learn 10 new offensive moves.
Learn proper fundamentals of man- to- man defense.
Learn correct Shooting form, and practice techniques.