Testimonials
"My son first started going to Bob Cantu's Basketball Camp when he was 4 years old - and enjoyed it so much he continued to go for 8 consecutive years! I credit Bob with teaching my son sound basketball fundamentals and fueling his passion for the game - all while making each camp experience a lot of fun! Whether you have an aspiring basketball star or just need a fun and safe place to keep your kids busy for a week, I highly recommend Bob's camps!"
-Kent E., Atascadero
---
Camp Video
---
About
Have fun, learn and develop your child's basketball skills!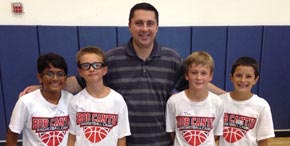 The Fundamental Basketball Camp is designed for boys and girls ages 4-12, who want to learn and develop basketball skills.
read more
Camp Alumni

Former NBA player and coach.
Shane Kupperman
New Orleans Pelicans Assistant GM
see all